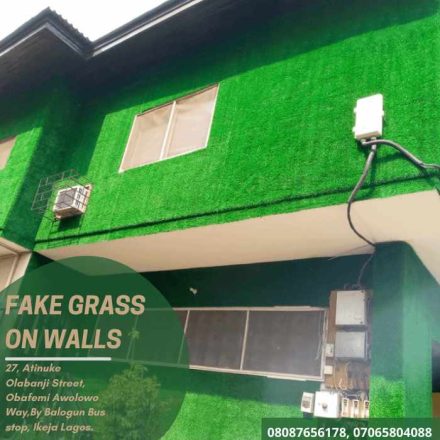 Exterior walls are frequently used as a canvas for creativity and expression in the domain of outdoor décor. Interior decorators, artificial grass and plant wholesalers/retailers, and event planners are all incorporating artificial grass into exterior wall decorations. The use of synthetic grass not only lends a touch of greenery to the walls, but it also adds a unique texture and aesthetic intrigue. We give ten engaging ideas for external wall decorations utilizing artificial grass in this detailed ranking guide, ranging from faux grass to natural grass and color grass possibilities. This book is intended to meet the needs of industry professionals, whether you are looking for inspiration or practical advice.
1.Vertical Garden Oasis:
Transform a plain exterior wall into a lush vertical garden oasis by installing artificial grass panels alongside vibrant plants and flowers. The combination of faux grass and natural greenery creates a stunning focal point that adds freshness and vitality to any outdoor space.
2.Grass Wall Art:
By chopping artificial grass into a variety of forms and patterns, you may create appealing wall art. Due to the adaptability of synthetic grass, there are countless design options available, from elaborate murals to geometric patterns. These grass wall installations can be used as permanent decorations for external walls or as eye-catching elements for outdoor events.
3.Playful Grass Frames:
Using artificial grass to frame portions of the wall will give an outdoor space a whimsical touch. These amusing grass backgrounds can be used as backdrops for interactive photos or just to add a distinctive and refreshing visual aspect to the area.
4.Colorful Grass Accents:
Include color grass selections in the design to add a splash of color to exterior walls. Since artificial grass comes in a range of colors, it's possible to put together imaginative combinations that go well with the surroundings or the subject of an event.
5.Grass Pockets:
Install little planters or pockets filled with synthetic grass on the external wall to create a lovely arrangement for indoor plants or colorful flowers. These grassy nooks offer a useful way to incorporate plants while also giving the wall depth and aesthetic intrigue.
6.Grass Textured Wall Coverings:
Use fake grass as a wall covering to improve the texture and aesthetic appeal of an outdoor wall. This method gives the surface a distinctive touch, resulting in an aesthetically appealing and natural-inspired backdrop.
7.Grass Signage:
Use grass signage on outside walls to make a strong statement. Use artificial grass to cut out letters or other forms that you can stick to the wall to show names, catchphrases, or event branding. The contrast between the text and the grass is dramatic and draws the eye.
8.Grass Dividers:
Use fake grass as wall dividers to segregate outdoor areas or to create visual divisions. This method is the perfect choice for event planners or those looking to designate specific zones within a bigger area because it provides a natural touch while retaining an open feeling.
9.Vertical Grass Stripes:
Vertical strips of fake grass can be used to give an outside wall a modern aesthetic touch. This straightforward yet efficient approach gives the surface texture and aesthetic intrigue, turning it into a focal point that attracts attention.
10.Grass Waterfall:
Installing panels of artificial grass to resemble waterfalls on an outside wall would provide a compelling feature. Any outdoor area is made more serene and beautiful by the addition of flowing grass and a water feature.